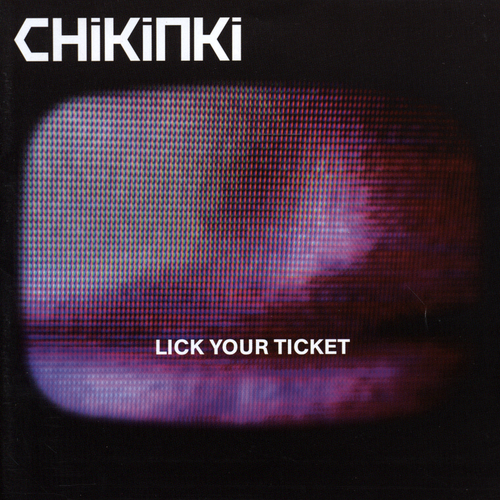 Lick Your Ticket
Available Formats
Tracks
Price
Buy
Download Album (

MP3

)
12 tracks

£

7.99

Download Album (

AAC

)
12 tracks

£

7.50
Description
Chikinki - Lick Your Ticket
The air is filled with raw energy and power when the electric guitar riffs of chikinki are blasting out. this album is absolutely awesome, containing elements of rock and electro, yet with such rhythm that people will ignore this fact and dance simply because of the pure, unadulterated and inexplicably universal sharp, staccato riffs from the guitars and the mesmeric electro backround sound. if you enjoy fantastic, specialised and, quite frankly, quirky music, then this is certainly a must have.
Reviews
Lick Your Ticket – Reviews
NME – JUNE 2004
Chikinki may not be the future of rock but that ain't necessarily a bad thing. If ever a band didn't match their name it's Chikinki. They sound like they ought to be a shags-style trio of teenage girls with no bass guitarist and matching alice bands; in reality they're an unholy mix of Super Furry Animals bounce, Metallica atmospherics, Jane's addiction controlled caterwauling, a morsel of dub here, some MOR Balladry here, and at least one 15-second spell when they sound exactly like 808 State. Now, contrary to popular belief, there's no innate virtue in wilful esoterica, but the chaps still manage to stumble on enough moments of loveliness/tenderness/rockness to make 'Lick Your Ticket' (yes, terrible name, isn't it?) worth the indulgence. Specifically 'Bombs', despite it's radio-unfriendly title in these troubled times, could quite plausibly be Chikinki's 'Under The Bridge' with it's lighter-waving gentility and yearning. That's one for the traditionalists though – yer alt. Rockers will find their jollies in 'Drink' (the precise point at which Metallica and The Orb intersect), 'Scissor Paper Stone' (Jane's Addiction the day after they've all been dumped) and 'Assassinator 13' (Super Furries on uncontrolled steroids). A couple of times, specifically 'Forever', which makes Foreigner sound like Funeral For A Friend – it all starts sounding like a Pepsi Mogadon advert. But soft rock is cool again, so kick back and get your ticket licked – whatever that means.
XFM – JUNE 2004
The problem with electro-clash/rock/folk/blah is that it has a shorter shelf-life than a Big Brother contestant's TV career. It arrives in a blur of smut-infested, hip-struttin' hype and leaves, err, with a whimper. See Fischerspooner for lessons that if you spend 50% of your time doing your make-up and 50% of your time shagging the mikestand, then people will soon realise you don't have any fucking songs.
So it should be with Chikinki. Five sexy, skinny, synthesised smutfreaks from Bristol, they're the archetypal electro-indie crossover. Only, the cheeky buggers have arrived with their tech-gadgets in one hand and – argh! – songs in the other. Outrageous!
Indeed, 'Lick Your Ticket' is an album that defies expectation from start to finish. Where most bands in the same position, Pink Grease, for example, down a bucket of E, watch the ten-minute freeview and dive into the songs with their head firmly fixed on hedonism and the gun in their pocket, Chikinki are in the midst of the post-morning comedown. And lots and lots of valium. The album starts at the tail-end of debauchery, 'Assassinator 13''s bleeps and bass rumblings soundtracking advice that "sex is fun when you are high". By the end of the song, though, comes the whispering realisation: "Alcohol numbs the soul/It doesn't stop you getting old". So it goes with 'Lick Your Ticket', where sex is followed by insecurity, where alcohol is followed by the inevitable hangover and where sleep is disjointed by paranoia. 'Ether Radio' is three minutes of bleary-eyed beats and melancholy hooks, 'Drink' takes the organ grind of DJ Shadow and filters it into slo-mo alt.folk, 'Hate TV' crawls through industrial dirt and synth whirls towards a chorus of Nine Inch Nails-sized anger, while 'Staple Nation' goes from twisted, fucked-up latino to marching Marilyn Manson-esque discordance.
It's Rupert Browne's ability not to get too carried away, meanwhile, that keeps the whole thing on track. A simple hookline suffices where lesser frontman might be inclined to wail, and credit, too, for the attention-grabbing running times (the majority of songs here clock in at under four minutes). They know when to cut the moroseness; when 'All Eyes' brings the album's midpoint to a gutter-sleeping low, 'Scissors Paper Stone's bass-heavy pound comes cutting through the melancholy. Similarly, 'Bombs' Air-like sorrow is lifted by the taut drum'n'bass of 'Like It Or Leave It'.
An album struggling to understand the difference between love and lust, 'Lick Your Ticket' is the work of a band in it for the long-term. While the likes of The Rapture and Radio 4 are getting lost in the euphoria of the party, Chikinki are left confused, piecing together the fragments of the night before. They know what they might find won't be pretty.
THE CRACK – JUNE 2004
Second album from the genre bending Bristol band and it sees all the hype come to fruition as they excel with a mix of electro charged anthems and the odd poignant romantic gentle moment thrown in for good measure in a haze of beats and effects.
The band innovate in post-modern fashion and make you dance with their unique take on pop, tracks like Hate TV and Time make Chikinki one of the leading lights in a new generation of rock and more vital with each passing day.
UNPEELED – AUGUST 2004
Now then. Crippling, close-to-expiring confident elecktrorock glambastard pop that made me lose my lighter somewhere when I saw em live. With fucked synths and angsty shouty whiney vocals and shouting and grappling futureparanoiaic mashedheaded nastyness and a handle on how to put a strong song together with a groove and a tune and acoustics an electric guitars and thru-the-lookin-ass 303s. Chikinki are, or should be, the future. From the criminally catchy beastery of "Hate TV" to "Like It Or Leave It" and "Assassinator 13", Rupert, Boris and the rest come across as a computer-shagging and cackling bunch of contemporary sonic nerdules with a broadband connection to the nerve ends and the left lobe. The only thing, in fact, that they don't do well is names. But we'll forgive em that one, cause this album – like the live show – is a confident debut from an act with their eyes on the skies.
ROCKSOUND – JUNE 2004
For a lot of rock bands the only purpose keyboards serve is merely something extra with which to make a racket. That - and for the least co-ordinated member of the outfit – to hide behind while the others make with the rock shapes. For Chikinki, maybe, it started out like that. There's a lot of old rock still left in the mix here. 'Hate TV', for instance, is a big bludgeoning, creature of the night with a riff scratched across it like nails across a face; the keyboards nothing but an apologetic doodle on the top. Chikinki are from Bristol, though, so they don't have a problem with letting the computer have its sinister way occasionally, as on 'To Sacrifice A Child'. Not that this is Massive Attack or Portishead. 'Lick Your Ticket' is more like a cross between 90's experimental U2 and NiN, but it'll leave a totally different taste in your mouth.
OBSERVER MUSIC MONTHLY – JUNE 2004
They're not the only ones, but Chikinki have a fondness for playing synths like guitars. Which is sometimes a stroke of genius, particularly live, and sometimes isn't. They've stepped up a gear on the live circuit over the last year, and 'Lick Your Ticket' shows a new-found finesse in the studio. You get the feeling they're still not the finished article, but the recent single 'Ether Radio', all gritty bass, jangly guitars, and stabbing synths – gives a real glimpse of what Chikinki are capable of. Other highlights include the up-and-down pace of 'Like It Or Leave It', and 'Bombs' on which the band reveal a hitherto unseen, tender and melancholic side.
Tracklisting
Download Album (CID8147)