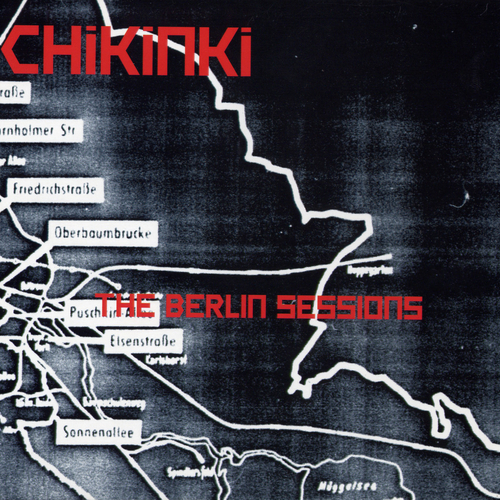 The Berlin Sessions
Available Formats
Tracks
Price
Buy
10" Vinyl Single
4 tracks

£

5.00

Out of stock

Download Single (

MP3

)
4 tracks

£

3.96

Download Single (

AAC

)
4 tracks

£

3.00
Description
Chikinki - The Berlin Sessions
Coming off the overnight ferry into the scummy morning light of Hamburg's docks, is as far away from glamour as it is probably humanly healthy to enjoy, but couple that with a seven hour rollout into a haven of debauchery and you're close to where any self-respecting rock band would wish to be. Berlin is the city of Heroes, (quite literally in the case of Bowie), a haven for some of rock's most creative and heroic starlets and/or fuck ups of all time for the last thirty odd years.

From its dirty filthy backstreet dens of decadence to the out and out euphoria of its Love Parade…Berlin is a city with a pulse, a city so steeped in history and emotion that it drips from every pore, in darkened basements, to sweaty venues, from subversive art galleries to street corners, Berlin is pure electricity and danger, it smells sweet like sex and drugs and rock'n'roll – if you look down the right allee that is.

Imagine this, you're lost in amongst the millions of cobbles that pave the city's streets, Chikinki; 5 boys from Bristol. You've been asked to come and play at the final night of the uber-cool FUN club, coupled with the legitimate excuse to get lost + debauched in Berlin because two very influential underground producers (who just happen to be early fans) have called up and suggested that you arrive early and record a few tracks at their place.

First up came Ewan Pearson. So he might just be the hottest remixer on the planet right now, the number one remixer du jour in the whole motherfucking universe even!! (Chemical Brothers, Goldfrapp, Depeche Mode, The Rapture and anything his particularly picky mind decides upon), but there is far more to the man that just adding beats, having tackled everything from a neo-folk album for US artist Jeb Loy-Nichols as producer to adding his nous to Nellee Hooper's production of the forthcoming Gwen Stefani album. And that's not even going into his literary efforts.

Together Chikinki and Ewan produced two remarkable tracks, The Right Place and Stay Lost, the latter of which is a marvellous psychedelic stew that punctuates a rousing sense of ecstasy and elation...like the cold morning sunrise to end the glorious night before literally out-smiling a no wave Brian Wilson into oblivion, whilst The Right Place is pure with its throbbing and humanistic rhythmic backbone, each playing on a whole bunch of other Chikinki influences, from alt folk to new wave and punk, rather than the hard electro you might expect from Ewan.

After a couple of inspired days, the boys crossed the corridor into the lunacy that is the magical world of Tiefschwarz. Germany's playboy pin-up duo they might well be, but over the last year they have taken their rightful place at the top of the house music pantheon, largely thanks to making practically the only genuine club record of the year, Spektrum's 'Kinda New'. Ali Schwarz was blown away by Chikinki's live show at a very early outing in a pub in Putney back in 2002 and had looked forward to working with them ever since.

Two tracks recorded here. One for Chikinki, Something More, which shows a clear marriage between the electronic rock swagger Chikinki do so well, and the tough house groove of the Schwarz brothers. The other, for Tief themselves, entitled 'Artificial Chemical', still rests on the mixing desk in their bunker, destined to be the lead off single from their second album due early next year. All we can tell you about that track is that it will take Tiefschwarz up another gear! This 10" is rounded off with Tief's dub of Something More, stripped down and fucked up to make the only track here that will truly be at home on the dancefloor, but this experiment wasn't about that! It was about coming from different angles and fucking things up. The cream of one scene doing their thing with the rising starts of another.

It was also about seven days of getting stoned, fucked up, dancing on tables, getting lost in Berlin, climbing walls (and The Wall!), sweaty mid-week dives, fetish fuelled basements, big glam clubs and god knows what else… and even if we knew, we couldn't tell you without killing you afterwards…You know what!! it was about what being in a band is meant to be about. Instead of always crashing in the same car… get lost, stay lost, you might just find you like it there.

Tracklisting
10" Vinyl Single (10CHIKINKI01)
Chikinki

- Something More (Produced By Tiefschwarz)

Chikinki

- Stay Lost (Produced By Ewan Pearson)

Chikinki

- Something More Dub (Produced By Tiefschwarz)

Chikinki

- The Right Place (Produced By Ewan Pearson)
Download Single (10CHIKINKI01)