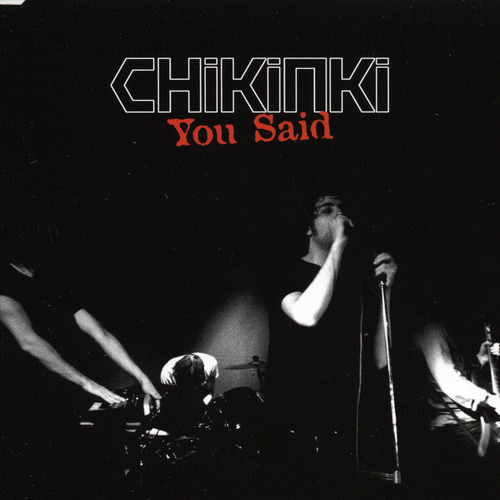 You Said
Available Formats
Tracks
Price
Buy
7" Vinyl Single
2 tracks

£

3.00

Out of stock

CD Single
3 tracks

£

3.00

Out of stock

Download Single (

MP3

)
3 tracks

£

2.97

Download Single (

AAC

)
3 tracks

£

2.25
Description
Chikinki - You Said
After the release of their critically acclaimed Island Records debut ' Lick Your Ticket' (2004), and a period spent conquering Europe, Chikinki return as the rock group they were always meant to be. Indie Rock is over used in categorising bands with guitars. Chikinki, however, are indie rockers in the truest sense. Deeply rooted indie origins and ethics, yet Chikinki aren't ashamed to rock out with the best of them with their huge choruses and epic synths.

'You Said' is a volatile cocktail of equal parts unmistakeable Rupert Browne dirty vocals, heavy bass, acid synths and a good measure of Chikinki magic. We defy anyone who doesn't stand proud after hearing this gem, ready to champion the band to their next level…

B-side and live favourite, 'Nasty Side' packs a punch of equal stature, further showcasing Chikinki's honed sound. Bands would kill for this track as an A-side!

Welcome back into the world of fast forward pop, playful and passionate, from a band who dare to dream!

Reviews
Music OMH
Bristol's Chikinki present a pretty awkward conundrum for a band that's gained critical acclaim for a choice blend of alt indie and electronica. At the mention of such a hybrid the logical mentality would concoct images of elegant keyboard-informed soundscapes and maybe a playful intellectuality. But the prevailing reality of this two-track single is a band wearing their heart on their sleeve with a robust strut somewhat redolent of the Red Hot Chili Peppers.
You Said begins with a concise electro squelch and rousing drum beats before settling for something downright "gritty" and "grimy", Rupert Browne weaving his American inflected, Anthony Kiedis-esque vocals in repetitive lines through a mesh of pondering guitars, bass and keyboards to evoke precisely nothing that's recently come out of their hometown scene.
Any overtly New Wave style seems to be thin on the ground as the band pound it and writhe with the devil. B-side Nasty Side steps up the tempo with aid of a rudimentary springboard bounce rather than a rocket fuelled blast, the effect more celebratory punk-funk posturing than electronically fused indie poise. Maybe it's what was promised that could disappoint about Chikinki's return, but if you're down with the Chilis, you'll have an unexpected new ally here.
Tracklisting
7" Vinyl Single (UCOW004)
Chikinki

- You Said

Chikinki

- Nasty Side
CD Single (UCOW004CD)
Chikinki

- You Said (Radio Edit)

Chikinki

- Nasty Side

Chikinki

- You Said (Album Version)
Download Single (UCOW004CD)